The college years can be some of the most impactful, formative, and important in a person's life. Many of the main considerations in picking a university are things like campus life, academic performance, mentorship, extracurricular opportunities, and student support.
We began conducting research into the safest colleges in America because none of these positive college experiences are possible without the university providing a safe and nurturing environment for students to break out of their shell and grow into their adult selves.
To parents, in particular, safety is often an even more important consideration than academic performance.
Colleges know this and will often create PR designed to convince parents and students alike that they are the safest choice.
To help you with such an important decision, we've compiled a list of the safest colleges in the US.
We used a methodology that incorporates reported data and campus crime rates, while also considering local crime, law enforcement support, and campus transparency.
With the data meticulously run through this method, our statistical analysis has resulted in a list we are quite confident in.
However, please don't confuse this list as ranking one college as better than another in areas unrelated to safety.
Methodology
The National Council for Home Safety and Security recently released a methodology for identifying the safest colleges. Their method utilizes FBI crime reports combined with campus crime rates.
We found their calculations for crime rates less comprehensive than they should be, relying only on the total number of campus crimes to be divided by the campus police numbers.
For the purpose of this list of the safest colleges in America, we expanded upon this original method while adding more significant metrics, such as the number of crimes per 1,000 students and local crime rates.
Additionally, crime stats in states without marijuana prohibitions are lower, so we adjusted our rankings to compensate for this. This expanded methodology has resulted in what we see as a more viable ranking system.
Without further ado, here is our list of the safest places to study in America.
Safest Colleges in America – 1 to 10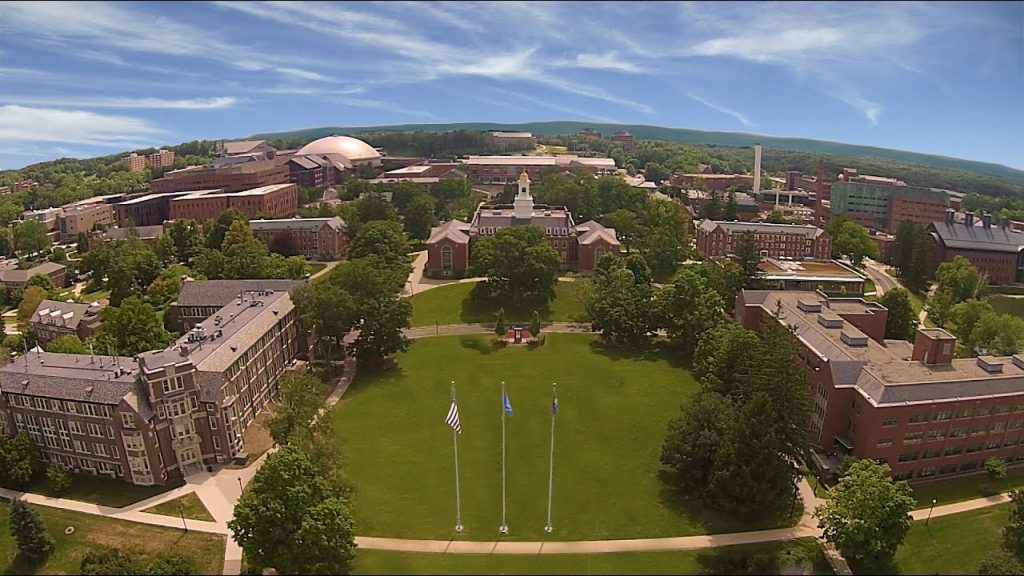 Coming in first on our list, UConn has a prominent but non-invasive police presence on campus, a system to ensure no one walks alone, and one of the lowest campus crime rates we have observed.
Along with being one of the best college towns in the US, Mansfield is a safe city with a relatively low crime rate at .73 per thousand residents. The university's safety webpage also has helpful resources for students and community members alike to take action against any past or present wrongdoings. The Avery Point location is also one of the safest college campuses in the US.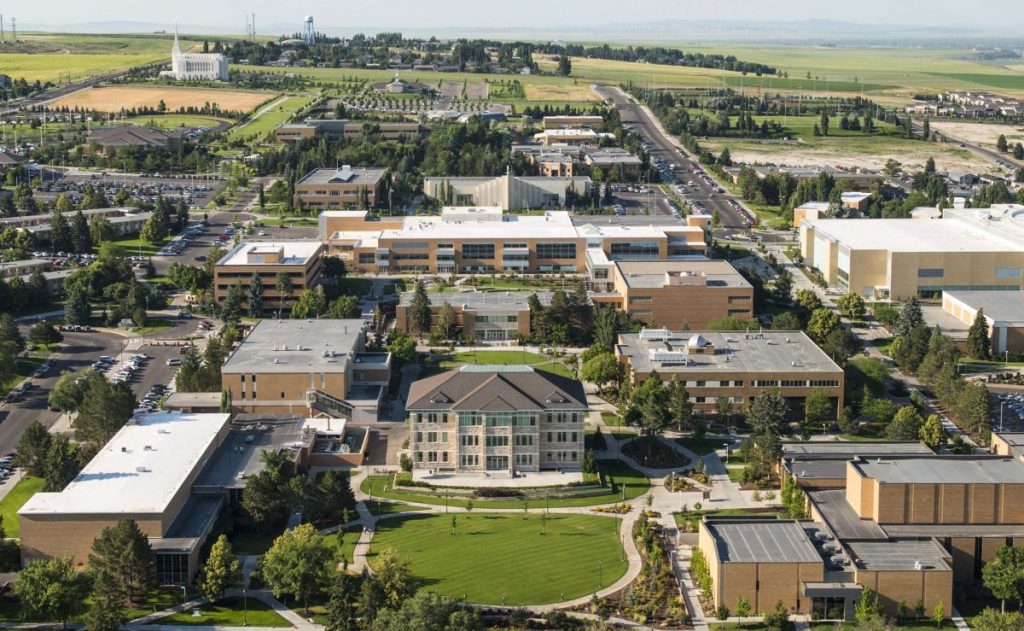 Our magna cum laude of safety goes to Brigham Young University. The Idaho campus has some of the lowest crime rates of all the colleges we've seen, coming in at an impressive .0082 per thousand students. Rexburg as a whole has an impressive record, at just .39 per thousand residents.
Perhaps a reason for its high placement in the college safety rankings is the comprehensive code of conduct that students adhere to at the LDS university. Students and faculty speak of the school, and of its safety, very highly and have repeatedly found it to be an inclusive and nurturing environment for young adults.
With the New York City crime numbers dropping like a stone in recent years, it's not shocking that we have a handful of schools from the Big Apple on our list of the top safest colleges.
NYU had no arrests on campus grounds and just 12 alleged crimes to go along with 14 acts of violence against women.
These are impressive numbers for an institution this large. Police visibility on campus is average relative to their New York contemporaries.
Tuition may be a scary aspect of the university, but rest assured that NYU rests at the summit of our list. And if you want to live a bit further from the island, you can choose from the list of the safest cities in New York, such as Rye, Glen Cover, or Irvington.
A healthy five-hour eastbound drive from busy Seattle finds us another one of the least dangerous colleges in America. The home of the Cougars recorded just seven arrests on campus. There's light but consistent police visibility on campus to pair with well-lit walkways for every place you need to walk to on campus. You can definitely walk around without a stun gun, taser, or a pepper spray on you. However, it doesn't hurt to have one of those, just in case. Pullman scores well for local crime too, with just 539 reported incidents last year.
Clemson had a shockingly low crime rate, with just .002 reported crimes per thousand students. If it weren't for a marginally higher city crime rate than its predecessors, the university would be even higher on this list.
The campus crime rate makes them, statistically, the safest campus in the US. As a city, Clemson's crime rate is 1.02 per thousand residents. The university has a strong police presence, great safety resources for students, and a great code of conduct that students adhere to.
Penn State's community puts a top priority on safety. The safety crew at Penn State has extensive training in crime prevention and works collaboratively with local police. Thanks to this, police visibility is lower on campus, while campus security numbers are higher.
Going further than just crime prevention, all security members are trained in first aid and CPR. This results in very consistently low crime rates across campuses, making each location some of the safest colleges we've observed.
According to reported crime data, UNH had just 7 reported crime incidents in the last calendar year. Impressively, none of these incidents involved violent crime. The Manchester and Concord campuses, however, are not included in this consideration, nor do we include them with Durham as one of the safest college towns in America.
As a city, Durham holds a respectable 1.09 crimes per thousand residents. The University of New Hampshire has an unwavering commitment to personal responsibility and safety, while also providing resources to students and strong support to victims.
The home of the Boilermakers begins to round out our top 10 safest schools in America. West Lafayette is a fantastic college town with a strong but non-invasive police presence with just 515 reported crimes over the last year.
Purdue, along with providing a great education at a competitive price tag, has a very low crime rate at .08 per thousand students.
Additionally, the school provides support and resources to students, and it has healthy security expenditures.
Despite the surrounding area performing poorly in safety tests, UMD is one of the safest universities available, and the university's crime stats are quite low. They had just 63 reported incidences of crime over the past year. Campus and local police are very visible and effective deterrents of crime on school grounds.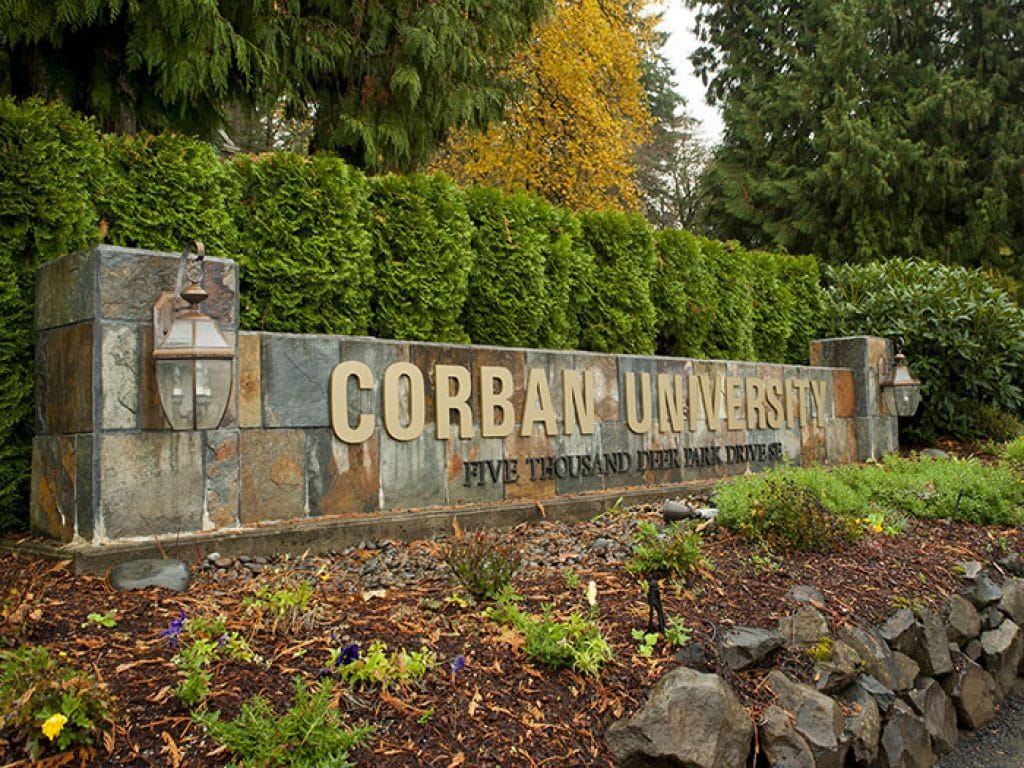 What is the safest college in Oregon? From providing roadside assistance to safety escorts, the private Christian university is unwavering in its efforts to provide a safe college environment. They had under a dozen crime reports, the majority of which were related to alcohol.
We initially had this school even higher on our ranking before realizing we needed to adjust the methodology for colleges in states with marijuana prohibition. Rest assured, Corban University is one of the true safe colleges out there.
Safest Colleges in the United States – 11 to 20
While the total crime numbers—coming in at just under 1,200 reported incidents—may be alarming, given the university's size at over 50,000 students, the crime rate is a respectable 1.8%.
Michigan State, being one of the safest states, has a helpful student program to ensure nobody walks alone if they don't choose to. All pathways are well-lit, and the campus and local police presence is substantial. MSU is one of the safest colleges in Michigan, as well as the US.
Some smaller universities and community colleges that didn't qualify for this list have lower crime numbers, but Michigan State has set an example for big universities on crime attention and prevention.
Unlike their University of California contemporaries in Los Angeles, Santa Barbara, and Berkeley, all of which are considered among the most dangerous college campuses, UC Irvine has incredible statistics for both total crime and crime prevention.
Despite rising enrollment numbers, crime rates have not risen. There have only been two incidents in campus housing and about a dozen total incidents. Irvine as a city has over 250,000 residents and has maintained an impressive crime rate of 1.3 per thousand residents. UC Irvine has set an example that the rest of the University of California would do well to follow.
Nestled within the safe community of Ann Arbor, which holds a crime rate of 1.9 per thousand residents, the home of the Wolverines has been one of the safest college campuses in America. Not far behind its athletic rival Michigan State, the school has plenty of safety resources for its students and a visible police presence. All members of the security team are trained in CPR and first aid.
NYIT is one of the few members of this list with less than five total reported crimes in the past calendar year. Old Westbury is a small college town, with a population of less than 5,000.
The town had less than 50 reported crimes in total for the same time span. Also, the school offers undergraduate and postgraduate programs and has locations all over the world.
The Old Westbury location is one of the safest college campuses, so it's a sound choice for any tech-minded student.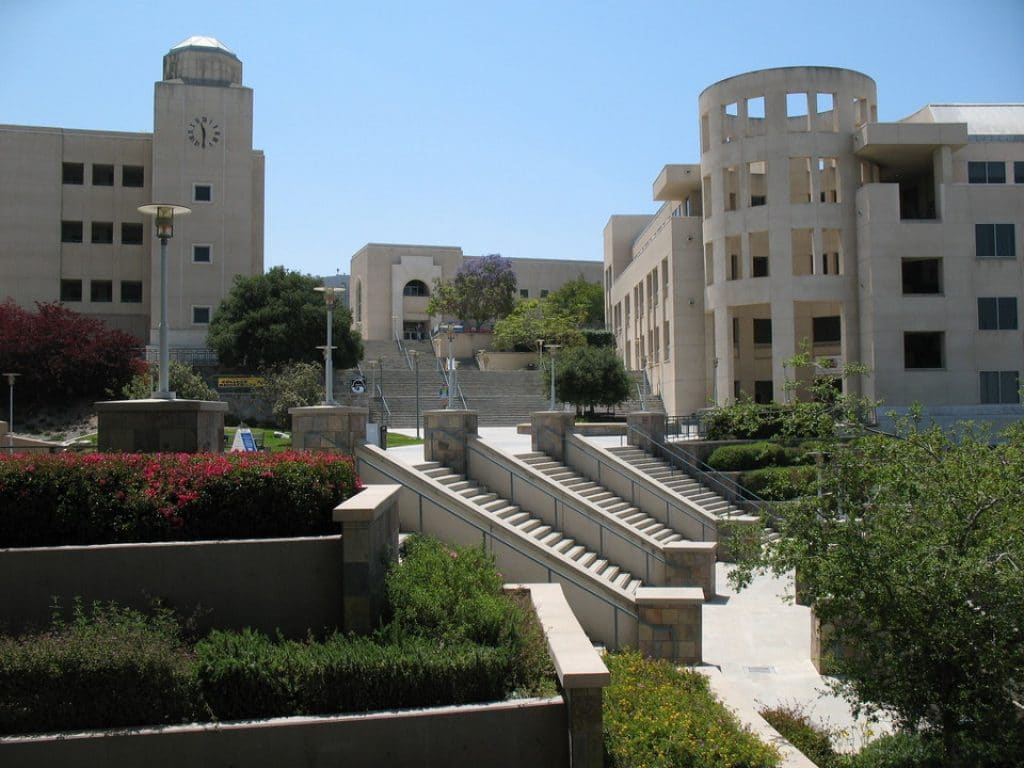 San Marcos is one of the safest cities in California with an impressively low crime rate given the surrounding cities. At just 1.3 per thousand residents, San Marcos provides an ideal community for a safe college.
The university itself has had less than two dozen incidents of crime over the past year. They have a fully staffed and trained security team that works in tandem with local police, creating a strong but hands-off police presence on and around campus.
Though this is another relatively small university on our list, that doesn't diminish the school's accomplishments. Still, we aren't trying to answer the question, What are the best small colleges? We just want to find the safest.
Galloway Township is located in Pomona, New Jersey. Pomona has a relatively high crime rate relative to some of the other college towns on this list. Data specifically on Galloway's crime rate wasn't readily available, but reports have the township contributing to just 8% of Pomona's total crime. From talking to New Jersey residents and state police officials, they've affirmed this figure to be accurate.
Nashville has consistently been ranked as one of the best cities in America. Using crime data from these big cities is a bit problematic, but looking at the district TSU resides in paints a clearer picture.
One of the safest colleges in America by the numbers, Tennessee State University has had just 26 campus crime incidents, placing the college's crime rate at just .0037. TSU has an unwavering dedication to campus and student security, making it a great college choice for safety.
We're back to the big schools with Iowa State University, a relatively inexpensive university. However, we aren't concerned with the question, What is the cheapest college in the US? We care whether it has performed well in key crime stats.
The school has a strong police presence, and while they had over 500 incidents on campus, school safety statistics show that over 350 of those were alcohol and minor marijuana offenses. Ames itself has an impressive crime record, with just under 1,500 reports in the last calendar year even though it's home to over 60,000 people—and this helps make Iowa State one of the safest colleges in the US.
Found within the safe, cozy community of Claremore, Rogers State University has provided a secure environment since even before they began offering bachelor degree programs.
Being a small but growing school, its careful attention to safety has paid off, with less than 10 total crime incidents on campus. This focus on safety will surely see the school grow into a bigger and more influential institution.
A private liberal arts school found in Elon, North Carolina rounds out our top 20 safest colleges in America. Elon's crime numbers are just as impressive as any other city on this list. They had only 58 total incidents in the last year.
The school's security team is so attentive, students only need to worry about their studies. Additionally, this university is located between Raleigh and Greensboro, two of the safest cities in North Carolina.
Safest Colleges in the US – 21 to 30
A historically black college, this small university is yet another to provide a phenomenal student experience with an emphasis on safety.
The school has a strong code of conduct and acts swiftly to sort out the truth in any allegation, helping it become one of the safest universities.
Police presence on campus is less than some of the others on this list, but that hasn't proved to be an issue.
On top of having phenomenal graduate and freshman retention rates, coming in at 87% and 96% respectively, Lehigh has created a positive atmosphere for learning and student safety.
The city of Bethlehem performs well for safety as a whole, having just 19 incidents per thousand residents.
And the university takes that security performance further with very few incidents recorded in the past few years, most of them being minor alcohol charges.
ASU had just 35 total reports of crime on campus or in campus housing for the past calendar year. Clearly, Arkansas State has some of the best college safety practices of the schools we've studied.
While Jonesboro city crime occurs at a much higher rate than that of Beebe, the external city's crime seems to have little effect on the campus.
Beebe has much better safety stats, having just 410 total reported crimes in the past year. Jonesboro is a much larger city, with a crime rate of 3.1 per thousand residents.
Founded in 1880, Bridgewater was the first liberal arts college in Virginia to admit both men and women. The school has provided a safe and nurturing environment for learning and student growth ever since. The private school has very little on-campus crime coming from its 1,800 students and scored very high on our college safety ratings.
The town of Bridgewater is a lovely little college town with incredible crime rates. The police department doesn't have much on its plate, as there were only 13 reported crimes for the past calendar year. If you're looking for a small, safe community, then Bridgewater College is a great choice.
Back-to-back Virginia schools round out the top 25 safest colleges in the US. This school barely surpassed our 1,000-student threshold. They had no reported incidents of crime on campus, giving them a perfect crime rate.
Perhaps even more impressive is the city of Emory's crime rate of just .009. It's one thing for a contained community like a university to have this sort of number, but as a city-wide total, that's impressive. At zero reported crimes, it would be easy to place them as the best choice in a college crime rankings list.
While the Columbus campus failed to make this list, the Newark location has a much more impressive record.
With significantly less enrollment, perhaps the security team has the opportunity to work more efficiently.
When a university grows to a certain size it becomes a much more difficult task to ensure the safety of every student. The Newark branch of OSU is one of the safest colleges in Ohio.
In the heart of Silicon Valley, we find the first of two community colleges on the list. De Anza has been a high-ranking community college since opening in 1967. Their UC transfer program allows students to transfer to any of the top University of California locations.
Cupertino scores out well for crime, having just over 1,000 incidents for a crime rate of .9 per thousand residents. De Anza serves over 23,000 community colleges, making it one of the highest enrolled colleges of its stature in California.
Our two community college inclusions come back to back on our list of the safest colleges in the US. Just a short drive down highway 1 from Santa Cruz, Aptos is a small town with a great crime rate of .13 per thousand residents.
The college has a unique relationship with its neighboring University of California Santa Cruz. They offer a transfer admission guarantee program (TAG) for many of the top UC's. Thanks to a light but visible police presence on campus and a great campus security team, most of the 22 crimes committed on campus were related to alcohol. Like DeAnza, potential South Bay Area college students can find a safe alternative to a four-year school.
Next on the list of the safest college campuses, the home of Big Blue and the Aggies performed incredibly well in our analysis. With just 18 incidents on campus, they are amongst the lowest of all colleges, not even mentioning the fact that they enroll over 20,000 students.
The city of Logan's crime rate of .14 per thousand residents shows an equal commitment to safety between the college and the town.
Rounding out our top 30 safest colleges in America is George Washington University. Despite DC's tremendously high crime rates, the university has an on-campus crime rate of .0044 per thousand students.
This is a testament to the school's commitment to safety. There's a strong police presence on campus, a usual deterrent of crime, and a robust security system and team in place.
The greatest safety concern a parent should have about sending their child to this school should lie in their confidence in DC, not their confidence in the school's safety.
Safest College Campuses – 31 to 50
| UNIVERSITY | LOCATION |
| --- | --- |
| 31. St. Mary's College | Moraga, California |
| 32. Whitworth University | Spokane, Washington |
| 33. Biola University | La Mirada, California |
| 34. Liberty University | Lynchburg, Virginia |
| 35. Wheaton College | Wheaton, Illinois |
| 36. The University of Washington | Seattle, Washington |
| 37. Summit University | Clarks Summit, Pennsylvania |
| 38. George Fox University | Newberg, Oregon |
| 39. The University of Portland | Portland, Oregon |
| 40. Baptist College of Florida | Graceville, Florida |
| 41. Bellevue University | Bellevue, Nebraska |
| 42. Regent University | Virginia Beach, Virginia |
| 43. Northwest University | Kirkland, Washington |
| 44. Fashion Institute of Technology | New York, New York |
| 45. The King's College | New York, New York |
| 46. Fashion Institute of Design & Merchandising | Los Angeles, California |
| 47. Berklee College of Music | Boston, Massachusetts |
| 48. Azusa Pacific University | Azusa, California |
| 49. Concordia University | Ann Arbor, Michigan |
| 50. New England Institute of Technology University | East Greenwich, Rhode Island |