What makes a city great for family life? It might be personal preference, but there are some common factors that are important to consider. Social dynamics, affordability, safety, and educational opportunities are just a few of the indicators you should think of when trying to decide what are the best cities to raise a family.
The search can be pretty strenuous, and that's precisely why we've gathered information from people's reviews, ranking sites, and other sources to aid you in the quest. Hopefully, we'll remove some of the decision fatigue and put a stop to the never-ending tab sessions in your browser.
Top 10 Best US Cities to Raise a Family
Naperville, IL
Population: 147,501
Median home value: $416,700
Median rent: $1,516
Median household income: $125,926
Located in DuPage County, just 28 miles away from Chicago, Naperville is the fourth largest city in Illinois. Although the Downtown tends to get crowded, the current residents are satisfied with the short travel distance between local amenities and their commute to work.
With a crime rate 92% below the national average, it's exceptionally safe for raising children. Education-wise, you can find some of the best public high schools in America, with a leading example being the Neuqua Valley High School.
There are some other considerationgs when thinking about Naperville as a potential new home. Namely, the cost of living is 28% higher than the national average, which is not ideal, but the cost of goods and services evens the scales.
Naperville is a family-friendly suburban area with superb amenities. There's entertainment galore for the children, from summer days at the Centennial Beach to the rich repertoires at The AMC Showplace theatre. Walkable areas include the Naperville Riverwalk, a beautiful recreation spot with pedestrian bridges and scenic overlooks.
The Woodlands, Texas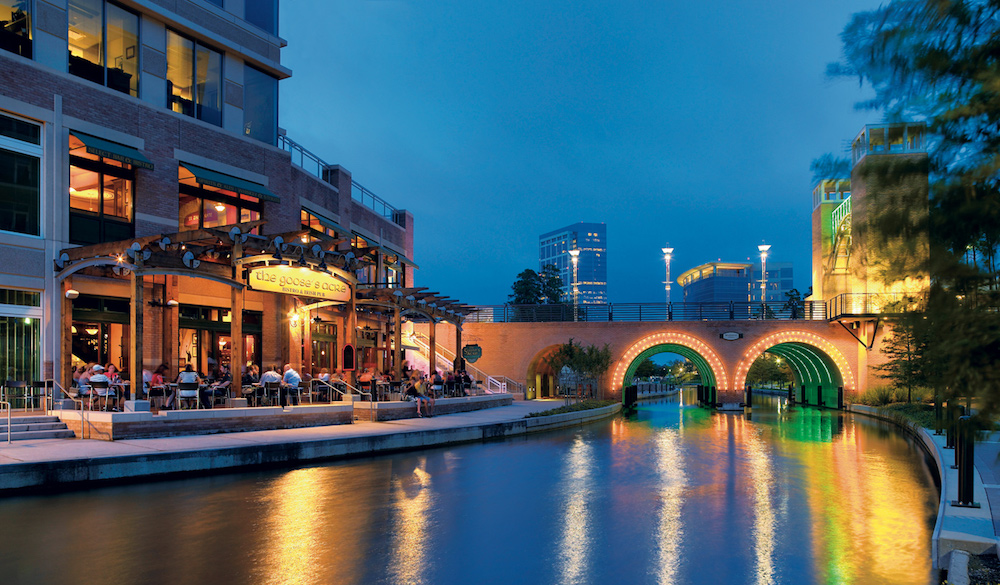 Population: 113,819
Median home value: $401,707
Median rent: $1,080
Median household income: $108,635
Welcome to the Woodlands, Texas. According to Niche, this quaint place has true potential to be your next home, as it's ranked number one in the best cities to live in America. The town has genuinely flourished into a masterfully planned community, with restaurants, shops, and quality venues located close-by for your convenience. This is just the tip of the iceberg, if you like big city life, but don't want to live there, The Woodlands are just 28 miles from Houston.
From resident's testimonies, safety is the first thing highlighted. With a 48% crime rate below the national average, it's undoubtedly one of the safest cities in Texas.  
In education, Creekside Forest Elementary School is the most respectable educational facility in Harris County, alongside many other quality options in both the public and private sectors.
The Woodlands Waterway Festival reflects the community's emphasis on the arts. But if you're planning to experience the wilderness, George Mitchell Preserve is an astonishing natural beauty with bike and hiking trails as a recreation of choice. All of this proudly puts The Woodlands into the category of the best cities to raise a family.
Arlington, Virginia
Population: 233,464
Median home value: $705,400
Median rent: $1,970
Median household income: $120,071
Arlington lies near the nation's capital and proudly carries the title of being one of the safest cities in the USA. Within its core, you can find numerous parks, splendid walkable areas, and important historical monuments.
One consideration if you are thinking about moving to Arlington is traffic congestion. Most residents commute daily to government jobs in Washington, causing a pretty intense rush-hour. However, the city has remedied this, by investing in an excellent public transport system and continuous efforts towards bike-friendly options drastically improved the situation for commuters, and making the city more eco-concious.
With security in mind, most of the safest major cities in America, with all their efforts and vigilant task forces, can't compare with Arlington. This city is 73% safer than all other residential areas in the country. Crime rates decrease 1% annually, and as an individual, you have a 1 in 101 chance of being a victim, compared to a 1 in 69 chance in a place like New York City.
Education matters here. Home to several reputable Universities, 73.7% of the residents hold a bachelor's degree or higher. Consequently, the community is welcoming and open-minded, making Arlington one of the best cities for African American families.

Keep in mind, the cost of living is 66% higher than the national average, so carefully planning your budget is required.
Overland Park, Kansas
Population: 191,011
Median home value: $276,100
Median rent: $1,164
Median household income: $86,487
Overland Park was Niche's undisputed number one pick for the best cities for families 2019. With its midwestern warmth, the city has a perfect combination of work and play, so it's no wonder that the population keeps rising.
Crime rates are 13% less than the national average crime rates, with high praise towards the local police department and their ability to respond quickly. The educational facilities are some of the most credible in Kansas, and Blue Valley North High School is the model to prove it, with overall student test scores ranking 19% higher than the national average.

With a heightened sense of community and belonging, Overland Park is unquestionably one of the best cities to raise a family. Moreover, The Overland Park Arboretum and Botanical Gardens are a blessing to have within the city limits. Its mission is to preserve and restore natural ecosystems with educational programs for youth.
Ann Arbor, Michigan
Population: 120,735
Median home value: $323,400
Median rent: $1,237
Median household income: $65,745
Don't harbor your feelings for Ann Arbor — it might be among the most beautiful cities in the US. Nicknamed the "Tree Town," it's home to roughly 50,000 trees spread within the city's parks and residential areas. It provides excellent schools and relatively low crime rates.
The University of Michigan is one of the most prestigious institutions globally and the largest employer in the city. It is also one of the safest colleges in America.
Life here has apparent advantages, but you should bear in mind that the cost of living is 23% higher than the state's average. Even so, Ann Arbor belongs to the best small cities in America. Michigan state's finest has cultural richness and group activities that promote a community feeling, making it anything short of enjoyable for families.
Bellevue, Washington
Population: 144,403
Median home value: $809,200
Median rent: $1,947
Median household income: $120,456
Bellevue is the third-largest city in the Seattle metropolitan area. This little city is a magnet for tech giants that contribute to a thriving job market, and a low unemployment rate.
To no surprise, the city made it on Yahoo Finance's list for Safest Cities in America – 2019 Edition. Since then, crime rates have been decreasing by 3% annually, so the safety issues are progressively getting better.
Concerning education, Bellevue's school district is among the finest educational facilities in Washington.
Bellevue derives from the French term "belle vue," meaning "beautiful view." When the weather is proper, you can glance at the Olympic Mountains scenes and understand the root cause of its name. "The city in a park," as it's sometimes referred to, has an extensive list of indoor and outdoor options; lake fishing, botanical gardens, and beautiful museums.
The cost of living is 52% higher than Washington's average, so It's not among the most affordable places. Regardless, Bellevue is one of the friendliest cities in the US and nothing short of a choice worth considering.
Columbia, Maryland
Population: 103,991
Median home value: $378,300
Median rent: $1,722
Median household income: $108,352
James Rouse founded Maryland on June 21st, 1967. His idea was to build a city with the sole purpose of giving the residents a better quality of life, and he succeeded. Columbia continues to bear his mark to this very day. With that in mind, it's one of the best cities for families, taking the number seven spot on our list.
Stretching between the Washington-Baltimore metropolitan area, the city of Columbia is connected to a vast job market. It consists of safe and quiet cul-de-sac areas, with residents who boast about their pleasant everyday lives.
When combined, the school test results are 9% higher than the national average, attesting to the quality of the education. River Hill High School is the highest-ranked high school in Columbia.

Although the cost of living is 8% higher than Maryland's average, the opportunities here easily outweigh the expenses.
Plano, Texas
Population: 287,064
Median home value: $320,100 (59% own)
Median rent: $1,418 (41% rent)
Median household income: $95,602
We're looking at one of the best medium-sized cities in America. The city is part of the Dallas-Fort Worth metroplex, which opens up countless work and pleasure opportunities.

Plano attracts a lot of families because of its safety and education. The city's crime rates are 26% below the national average, and reported incidents are primarily petty theft and different types of burglary. In addition, the Plano Independent School District has some of the best elementary schools in Texas. The student-to-teacher ratio is 14:1, and 81.2% of people have completed a college education.

Out of the many cultural amenities, the Heritage Farmstead Museum, a Victorian-style house built by one of the first original settlers, is a regular must-visit. Rest assured, there are many family activities to choose from, the most exciting being the superb local cuisine — a perfect melting pot of traditional and modern Texan cuisine.
Cambridge, Massachusetts
Population: 116,632
Median home value: $768,300
Median rent: $2,221
Median household income: $103,154
Named after the famed university in England, Cambridge is not only a vibrant city for young professionals, but also one of the most gay-friendly cities, with former mayors publicly giving support to the queer community creating a progressive culture.
Cambridge is not just a place for the young and bold. We can deduce that by the staggering 74% population that already tied the knot, Cambridge is a great place for young families.
There are many job opportunities near the Boston metropolitan area, especially in the educational, social, and health industries. Cambridge is home to some of the best high schools in America that are well equipped to prepare generations for a thriving future.
Regarding safety, the city's efforts have successfully kept the crime at a decreasing rate of 8% annually.
As a family, you can quickly access any local amenities; cafes, restaurants, grocery shops, and attraction sites such as Harvard University or the Harvard Museum of Natural History.
Irvine, California
Population: 273,157
Median home value: $838,000
Median rent: $2,361
Median household income: $105,126
Located in famous Orange County, Irvine garnered numerous awards over the years. It's not just the cream of the crop in California, but easily one of the best cities to live in the US. Don't let the superlatives surprise you — this is a highly functioning community in every possible aspect.
They both might be in California, but Irvine is nothing like its neighbor Los Angeles when it comes to safety. To walk the streets of L.A. there is 1 in 32 chance of being a victim of crime. Irvine, however, is safer than almost 40% of the all cities in the US! Taking the title for 13 years in a row, Irvine is at the top of the safest cities in America in residential areas with up to 250,000 people. Here, It would almost be humorous to talk about crime.

All this poses the question: Who wouldn't want to move to a safe place with great job opportunities and some of the finest schools?

Every neighborhood has conveniently located parks and shopping centers, so no significant mileage is needed to tend to the family's needs. Stretches of natural beaches are available along the Pacific Ocean, making it perfect for jogging or walking as a group activity. Ultimately, Irvine is hands down among the best places to live in California if you wish to raise a family in a healthy and prosperous environment.
Richardson, TX
Population: 116,432
Median home value: $274,200
Median rent: $1,403
Median household income: $85,678
Let's get down to basics. Richardson is among the greatest places to live with your family. This place is the epitome of a city that cherishes a slower tempo of life while keeping track of modern-day dynamics. According to Areavibes, it ranked a livability score of 91.
When it comes to safety, Richardson is safer than most cities in the US, with a crime rate 29% lower than the state's average.
The industries presented here deliver numerous job opportunities, and some of the largest employers include State Farm Insurance, AT&T, Blue Cross, and Blue Shield of Texas making it one of the best cities in America to raise a family.
Whether you choose to commute by car or city transport, the traffic will not be much of a problem. Additionally, walkable areas and parks are all over the place, and Cottonwood Park stands out the most.
Overall, this pleasant suburb of Dallas has a diverse, welcoming community, which is more than enough of a reason to consider it for your future home.
Best Affordable Places to Raise a Family
Buffalo, New York
Population: 256,480
Median home value: $89,800
Median rent: $776
Median household income: $37,354
Cost of living: 17% below the national average
Buffalo is one of the more affordable US cities, but that doesn't necessarily mean you are making a compromise.
Real estate prices are 75% lower than the state's average, with plenty of neat neighborhoods suitable for family life. One such place is Central Park, which is considered to be the best place to buy a house in Buffalo. Erie County is the biggest employer in the area, and the community heavily supports local business. With all that said, having Buffalo be one of the cheapest cities to live in the US, is a straight up perk.
The average travel distance between places takes about 20 minutes because of the surprisingly light traffic. However, expect some bumpy rides — the roads are pretty underdeveloped.
Don't let this stop you from visiting Niagara Falls or just going for a nice craft beer in some of Buffalo's finest breweries. As a prime example of where affordability meets quality, this city might be the perfect choice for your family.
Lynchburg, Virginia
Population: 82,126
Median home value: $175,500
Median rent: $857
Median household income: $46,409
Cost of living: 11.4% below the national average
Lynchburg received an Areavibes livability score of 80. The "City of Seven Hills" has a flexible enough job market with large employers such as BWXT, the environmental technology giant, with approximately 2,000 employees in Lynchburg alone.
Lynchburg's median real estate prices are 39.8% lower than the state's average, making the housing costs more manageable. While the essential utilities such as gas, electricity, and water cost slightly higher than the national average, the city can still be considered financially family-friendly with great economic possibilities that continue to grow.

The city continues to bear the mark of John Lynch's original idea — a thriving trading center for the region focused entirely on further expansion.
Omaha, Nebraska
Population: 475,862
Median home value: $159,700
Median rent: $923
Median household income: $60,092
Cost of living: 10.2% below the national average
The gateway of the west was a part of SafeHome's list of best cities to raise a family in the US in 2019. Omaha offers decent enough opportunities for a comfortable life, as it is home to large corporations like Berkshire Hathaway, Union Pacific, Kiewit Corporation, and Werner Enterprises. Even further enriching the job market are multiple military enterprises, the biggest one being the United States Air Force.

Regarding housing, Gretna and Pappollion are the most logical choices cost-wise and satisfy affordable, yet quality living. Perhaps because it isn't one of the most populated cities in the US, newcomers are astounded by these suburban nests and speak with high praise of the helpful neighbors and the continual improvement of the community feel.
Without the hustle and bustle of the bigger metropolises, Omaha combines the amenities of living in a larger city, but with a small town vibe. While making a decent living, with a great community that fits within your family budget, you can have the best of both.
Best Cities to Raise a Family in Florida
Tampa, Florida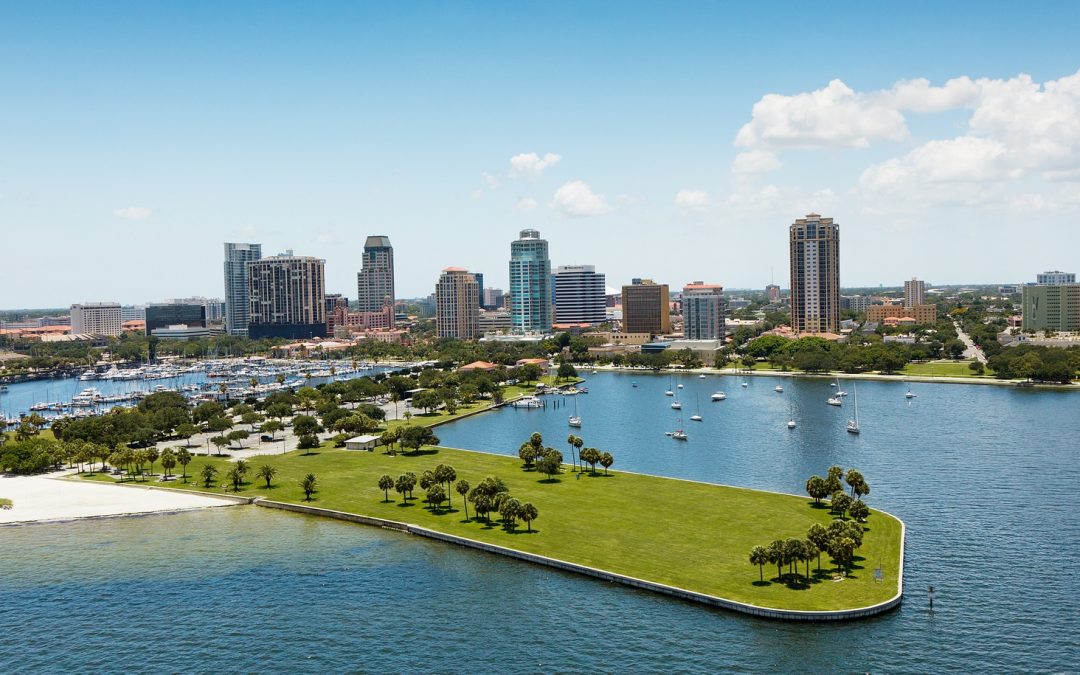 Population: 387,916
Median home value: $238,900
Median rent: $1,131
Median household income: $53,833
Life can be a lot better barefoot. Tampa isn't just an attractive seaside city suited for retirement. The gem of west Florida is a melting pot of different cultures, filled with endless activities to experience and enjoy. Many families have moved here because of the welcoming communities, great schooling options, and relatively inexpensive housing.
Crime rates by city in Florida vary considerably. Tampa has a 19% lower crime rate than the Florida average, which is a clear indicator of its safety level. 
Employment-wise, Tampa's job market is rapidly expanding across several industries, such as the marine science, business and financial services, and manufactoring. Some of the largest employers include BayCare Health System, JP Morgan Chase, Citi, The Port of Tampa, ConnectWise, and many more.

Tampa has some of the best places to raise a family in the US; Harbour Island is the ultimate representation as it holds the number one spot for top-rated neighborhoods in the area.
North Port, Florida
Population: 66,410
Median home value: $188,700
Median rent: $1,234
Median household income: $62,097
Moving south, we take a look at the small town of North Port located in Sarasota County. The city is rapidly progressing while maintaining its affordability; the ongoing initiatives for economic growth brought many service industries that keep this place well and alive.

Areavibes gave North Port a livability score of 85 based on secone different factors. Notabley, crime rates are 40% lower than Florida's average, which is an essential decision-making factor when thinking about where to move your family. Although the rents here are moderately high, the real estate prices are 12% lower than the state's average, cementing northport as one of the best places to raise a family in the south of Florida.
Education-wise, Sarasota's school district is an outstanding schooling option for children and youth.

Lastly, you can forget the anonymity of the big city feel — North Port has verdant surroundings and a welcoming community open to connect with the newly settled.
Niceville, Florida
Population: 15,386
Median home value: $238,800
Median rent: $1,117
Median household income: $76,823
How nice will Niceville feel if you were to move there? Puns aside, this is not just a good pick in Florida — it's one of the best places to raise a family in the US, considering that your choice is a charming, quiet town by the beach.
The industries found in Niceville are primarily in health care, social assistance, public administration, accommodation, and food services.

Crime is at an exceptional 47% below Florida's average, and there is plenty of sandy shores that are child-friendly. This warm, touristy community offers a cost of living, which is 3% higher than the Florida average, which might seem absurd to some. However, top-notch schools, safety, and friendly residents easily outweigh the cost.
Best Cities to Raise a Family in California
Camarillo, CA
Population: 68,122
Median home value: $602,000
Median rent: $2,006
Median household income: $93,512
Camarillo is a relatively small town located in Ventura County, founded and named by the Camarillo brothers in 1964. It's a place of rich history and continual growth in every aspect, putting it rightly so in the category of the best cities for families.
Stretching down the "tech corridor" of Ventura, the city is a favored market for industries involved in technology, bio-research, manufacturing, retail, and communications.
While California housing prices are notably high, Camarillo has the lowest unemployment rate in the whole county, making it a secure investment for your future.

With Camarillo being just 15 minutes away from the beach, 45 minutes from Los Angeles, and an hour or so from the snowy mountains. It's pretty safe to say that its one of the best places to live in the US. Yes, with Camarillo, you can have it all.
Imperial, CA
Population: 17,454
Median home value: $239,900
Median rent: $1,394
Median household income: $85,654
Maybe it's not the biggest city in California, but Imperial shouldn't go unnoticed. As a part of the El Centro metropolitan area, it's the fastest-growing community in the state. Don't let the number of residents fool you; this is not a featureless, barren town. Entertainment-wise, the California Mid-Winter Fair and Fiesta is the most diverse event in Imperial county, bringing several thousand visitors annually, making it still one of the best places to raise a family in the US.

Additionally, the most widespread industries available are administration, health care, and education.
Imperial is as safe as it gets; this small town has an 88% lower crime rate than California's average.
Most of the residents own their homes, and the cost of living is a staggering 24% lower than California's average, while the schooling options are more than decent. If you're looking to settle in a small, lively suburban area in California, you should look no further.
Carlsbad, CA
Population: 114,253
Median home value: $814,700
Median rent: $2,025
Median household income: $110,478
Carlsbad is part of San Diego county, and it's one of the wealthiest cities in California, when comparing the median income of each household. Although the city council caters primarily to tourist needs, other priorities regarding development are far from ignored.

Crime is remarkably low, with a rate of 65% below the state's average. The quality of education is an evident priority, with the city ranking number four in Niche's best public elementary schools in USA.

The highest-paying jobs are quarrying and oil extraction; however, there are multiple career options such as technical, professional, health care, and manufacturing services.
This coastal gem allows for an experience of a lifetime. With proximity to Los Angeles and other large centers, you can drive down the 101 highway and enjoy the most scenic view of the Pacific ocean. Carlsbad is gnarly rad. Packed with cultural richness and spotless beaches, it deserves to be one of your considerations when looking for somewhere to raise your family.
Safest Place to Live in USA from Natural Disasters
Taking a look at the map from bestplaces.net, we come to realize that the safest region, without a doubt, is the Pacific Northwest. Over the years, America has witnessed some of the most brutal forces of nature. Some of these occurrences are seasonal, while others spawn spontaneously, and people aren't always prepared for such phenomena.
The west has earthquakes and sinkholes, and the south witnessed some devastating floods, while the east coast is no stranger to hurricanes. Not to mention, anything stretching between "The Tornado Ally" is subject to potential structural and economic damage. Maybe you're looking for the best warm places to raise a family, but that might not be the best decision if you are looking to avoid your likelihood of experiencing a natural disaster.
Washington, Oregon, and Colorado are the most logical states to pick a safe place from natural disasters.
Corvallis is located in Oregon, and it's not an ideal haven but has the lowest risk of being hit by any of the events mentioned above. Even though it's close to the coast, cyclonic activity is relatively low.
They may not have the most desirable climates, but their geographic safety makes them some of the best cities to raise a family in the USA.

Best Cities to Raise a Family – Conclusion
Finally, what you lean toward might turn out to be entirely subjective. The wisest decision would be to put all this to the test by packing your bags and hitting the road. Admittedly, the pandemic does impose some limitations, but even so, things are slowly opening up, and you'll be able to rise to the occasion without any restrictions. The pros and cons of your desired city might feel entirely different once you get to experience it first hand.
We honestly hope this breakdown will help you find on of your best cities to raise a family. Remember, constants in life change, so don't be afraid to boldly experiment and discover the place that jsut might align your wishes and needs.
Best Cities to Raise a Family – People Also Ask