Safety behaviors are a part of our daily routines, and locking your firearm should be at the top of your list.
Pistol safes deliver the assurance that your gun is properly secured and reduce the chance of accidents while still providing quick, reliable access to your firearm when it matters most.
Stay with us and examine the best biometric gun safe for your household.
Why Choose a Biometric Gun Safe?
This type of safe is more popular than an electric gun safe because they don't require a key allowing you to stay calm during a crisis. It keeps firearms from being accessed by children and intruders and protects your gun from the elements.
Unlike a safe with a combination lock or a mechanical lock, you can quickly open it if an intruder enters your home, leaving you rest assured knowing that a quick scan of your fingers or hands will get the security box open.
Our Top 3 Best Biometric Gun Safe Recommendations
Best Biometric Gun Safe for 2022 – Editor's 8 Top Choices
Viking Security Safe VS-50BLX
This gun safe comes with an advanced optical sensor, numeric digital keyboard, and LCD screen. It can store up to 32 unique fingerprints on one pin code and is made with laser-cut steel and a military scratch-resistant finish. Its locking deadbolts are motorized and reinforced by two anti-pry insertion slots for added security.
If the door is left unlocked for more than one minute, it has a sound warning, and a timeout period if five incorrect pins or ten fingerprint attempts are made. This is a spacious two-gun biometric safe. The interior is fully lined and has a LED light to help you see your items in dimly lit locations.
It also features three fully adjustable shelves and four pre-drilled mounting holes to keep the safe securely mounted.
Pros
Stores up to 32 fingerprints
Very spacious
Made of sturdy material
Cons
Battery installation for light is complicated
Awesafe Gun Safe with Fingerprint Identification and Biometric Lock with One Handgun Capacity
This spacious safe provides a place for two standard guns or one larger pistol and additional ammunition.
Made of solid steel and a pry-resistant door, this safe keeps your gun and belongings protected. It also features an inside LED light as well as a gas strut. Even though it has excellent fingerprint identification, it comes with a digital keypad as well and includes an override key for backup access.
The door opens quickly and quietly, making it an ideal fingerprint gun-safe for your bedside. Thanks to its portable design, place it anywhere else it's needed (for example, your car or office). You even get a one-year warranty if anything happens after purchase.
Pros
Inexpensive
Easy setup
Made of high-quality materials
Cons
The fingerprint reader can create bugs from time to time
SentrySafe QAP1BE Gun Safe with Biometric Lock
This safe has the best biometric gun safe reviews online. It is one of the most sturdy models by SentrySafe, featuring a solid steel construction. This pistol safe offers convenient three-way access: biometric fingerprint, electronic keypad, and an override key.
The biometric fingerprint lock can store two fingerprints for access by multiple users, and the biometric access is a proven and accurate technology that assures quick single-handed access to your firearm.
Pros
Perfect for mounting on the wall
Flawless fingerprint recognition
Sturdy and quality construction
Verify Smart Safe S5000 Biometric Gun Safe
The best biometric gun safe for your bedside has an FBI silicon-based sensor that employs a 3D imaging system to generate a detailed fingerprint image. It offers tamper alerts to keep you informed about unauthorized attempts, crucial backup access, and a record of failed recent attempts.
It also employs a unique feature that senses when the door is being closed and automatically locks the safe behind you.
It has a low-intensity night light that softly illuminates the safe's interior without blinding, or you can even control the duration of the light or turn it off.This biometric gun safe incorporates boost power technology to ensure the LCD brightness and motor speed remain constant even when the batteries are nearly depleted.
Pros
Features admin ability to add and delete people who can access
Straightforward first-time configurations
Quick customer support
Cons
The electric motor makes a slight noise when opening the stab bars
Vaultek VT20i BIometric Handgun Bluetooth Smart Safe
This biometric safe features an accurate fingerprint scanner. Still, it will take five separate readings of your fingers so you can give it as much information as possible. You will need to install the Vaulteck Bluetooth app, which is a great addition. Pair your device with the safe in a few simple steps, and set up parameters, and adjust the interior light remotely.
In order to get the best biometric gun safe working, you will need to use the mechanical key and install the battery. The default factory code is 12345. Once the safe opens, press and hold the program key till the lights go red. After that, simply enter your new code, and hit the program again to re-enter the password.
Pros
Phone app that connects to the safe
Aesthetic design
Very accurate gun safe biometric
Cons
Biometrics must be programmed first to avoid problems later
Gunvault SpeedVault Biometric Pistol Safe SVB500
This mini vault is made from 16 gauge steel housing, making it very strong and durable. Its interior is lined up with soft foam to protect the valuable contents. It's got a spring-loaded door with an enhanced robust lock mechanism and precise fittings that make this gun safe tamper-proof.
This biometric handgun safe comes with a very low FPR which features a power connection jack meant for external DC or AC power supplies. It features an interior courtesy light and audio for low battery warnings. It can handle a maximum of 15 fingerprint templates, making it ideal for multi-user environments.
Pros
Handles up to 15 fingerprint templates
Compact
Works using batteries or a power cord
Cons
The internal sensor can be hard to set up
Cacagoo Gun Safe Case Biometric Fingerprint Security Lock Box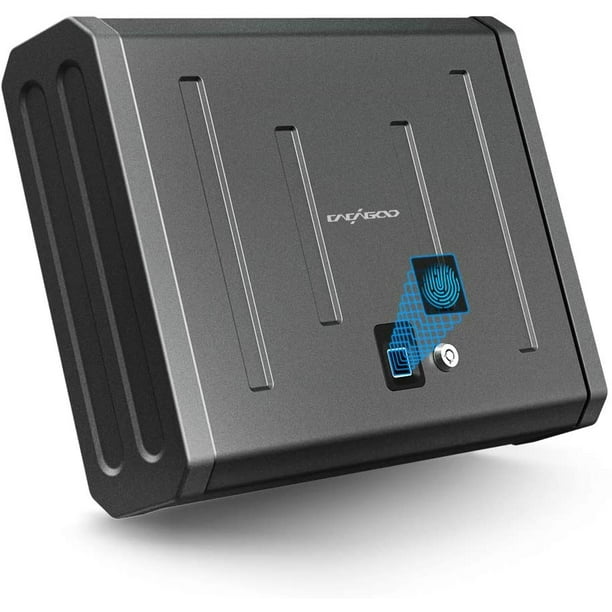 As the best biometric gun safe made of sturdy steel, this safe features an anti-smash bar, anti-collision locks, built-in hinges, and a new internal safety bracket for maximum protection against break-ins. It has a biometric fingerprint sensor that comes with an excellent match speed and provides extra fast entry in less than 0.1 of a second.
The gas spring door isolates noises to ensure quiet single-handed entry and offers a large fingerprint capacity and touch lifetime of more than one million times. Plus, this is a gun safe with a fingerprint sensor that features heavy-duty steel housing.
The sturdy metal-safe box will provide long-lasting strength and ensure endurability for years to come. It is lined with high-density memory foam to ensure security and protect your valuables from scratching or damage.
It also comes with a heavy steel cable to secure a fixture and pre-drilled holes for wall or floor mounting. The included mounting bolts in these biometric gun safes simplify the process of installation.
Pros
Extra-fast 0.1 second access
Easy wall mounting
Comes with an anti-cut wire rope
Cons
The safe isn't very heavy, so it is easy to carry away if not mounted properly
Liberty Safe Biometric Smart Handgun Vault
This top-opening vault is completely compact, making it perfect for placing it under a car seat or in a drawer.
This fingerprint gun safe is made of heavy-duty 14-inch gauge steel, and it is one of the heavier boxes on the market, being able to withstand the weight of a heavy-duty truck. It includes convenient interior lighting and a foam lining that protects handguns and valuables.
Pros
High-speed biometric reading
Door opens quickly
Easy to program
Cons
Opening the unit can be loud
Where to Hide a Biometric Gun Safe?
First of all, when you're looking for a gun safe, pre-drilled bolt holes are an essential feature. These holes allow the safe to be secured and bolted into the wall or floor, making it difficult to steal.
There are many places to hide a gun safe, and the ideal spot will depend on your purpose for it. Some of the most common places to conceal a gun safe are:
Bedroom
Under the bathroom/kitchen sink
Under the stairs
The laundry room
A closet
The pantry
An important consideration for a handgun case with a fingerprint lock is to make sure that it is concealed but also easy to access and unlock. In the event of needing to use a gun, quick and quiet access is essential to keeping calm and protecting yourself.
People Also Ask
The best safe depends on your personal needs and purpose. There are a couple of models, however, that have been found to meet most consumer's needs.
For example, the Awesafe gun safe with biometric lock is one of those. It offers state-of-the-art features for a small amount of money. It is made of solid steel, and there are three ways to open it, so your belongings will be safely secured.
Fingerprint gun safes are becoming more popular than electric gun safes because they save valuable time in case of a crisis. They keep your gun away from burglars and children, and unlike a safe with a combination or mechanical lock, you can open this kind of a safe quickly and calmly in the event of an emergency.
There are different gun safes to suit different needs. For example, if you need a compact safe that you want to place in your car, we recommend Gunvault MiniVault Biometric Pistol Safe GVB1000.
On the other hand, if you are looking for excellent fingerprint identification and a secure safe made of solid steel, we gladly recommend Awesafe gun safe with a biometric lock as the best biometric gun safe.