Whether we like it or not, keeping a distance has become a new normal for the world. With that in mind, the best forehead thermometer is an ideal solution to check people's potential coronavirus status. After all, higher body temperature is one of the most common symptoms of this virus.
Limiting the amount of touch involved in any interaction is critical for preventing the spread of viruses, bacterias, and other germs. Forehead thermometers take the temperature by holding the instrument two inches away from the skin, removing the need to touch the person.
Many are looking to find their own thermometer to test themselves or perhaps others in their environment. Offices and close-quarter working environments are in great need of new products to find the pandemic, and it can be hard to know which ones are truly effective and affordable.
3 Best Temporal Thermometer Recommendations
Best Forehead Thermometer in 2021
Mueller Austria Non-Contact Infrared Thermometer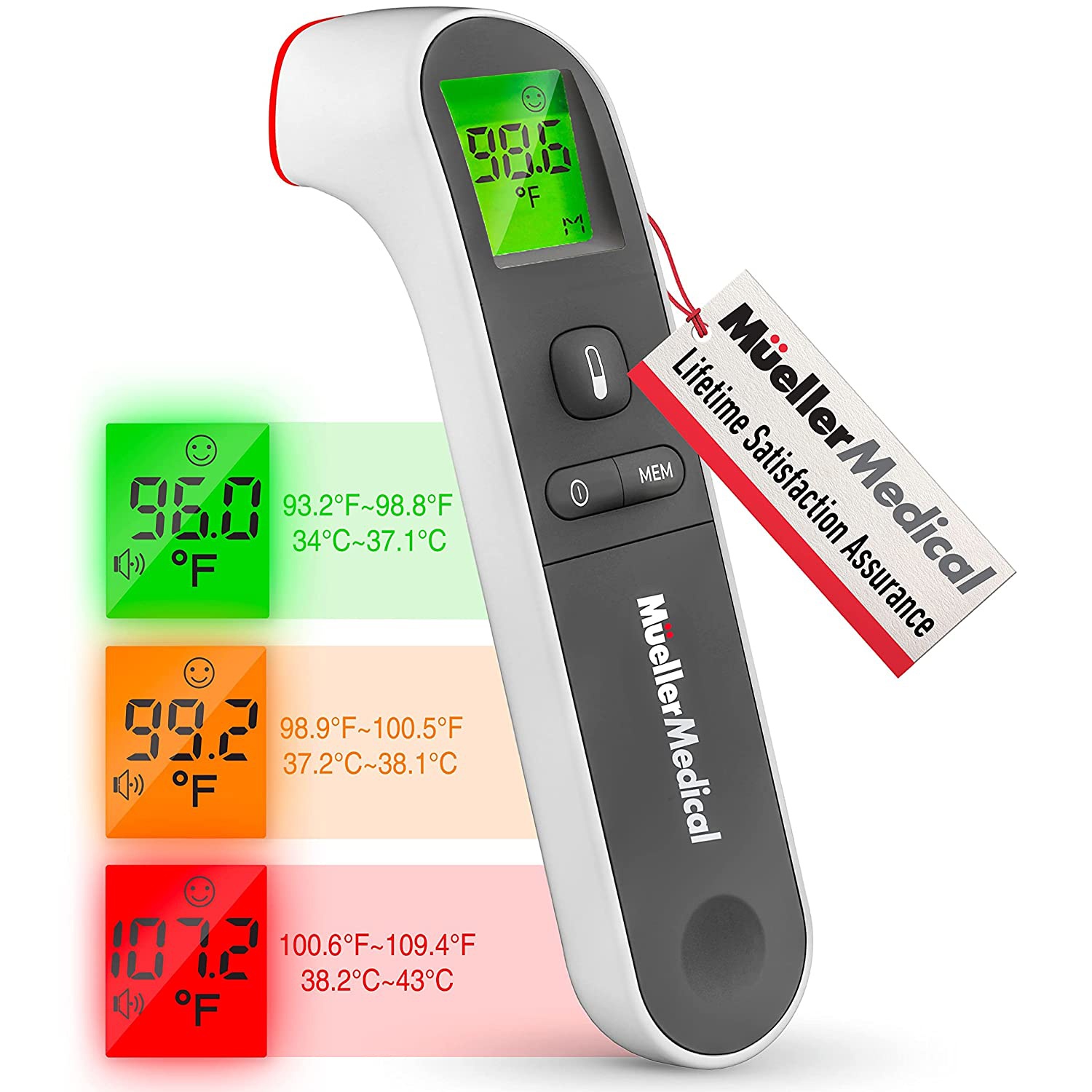 Pros
FDA-approved
Silent mode
Memory
Color-coded display
Cons
Depending on the placement, you may get an inaccurate reading
Mueller's FDA-approved non-contact thermometer measures the temperature of the forehead and the temperature of objects or liquids.
Just place the device 1–2 inches (or about 5 centimeters) from the center of your forehead or the object's surface. A convenient distance marker will show you if the distance is correct. If it is, this infrared forehead thermometer will display accurate readings in just one second, thanks to an advanced infrared heat detector.
Mueller Readings are displayed on an LED screen. The backlight is color-coded in forehead temperature measuring mode, depending on how high the temperature is (green, orange, red). This feature is excellent for people with impaired vision.
Important Features
Forehead temperature measuring mode measures temperature in the range of 93.2–109.4°F or 34–43°C, while the object/liquid temperature measuring range is 32–199.7°F or 0–93.2°C.
This forehead thermometer accuracy is +/-0.4°F or +/-0.2°C when taking body temperature, and +/-0.3°C for measuring the temperature of an object/liquid.
It has a handy memory feature for monitoring your own or your family's temperatures. It saves nine temperature readings, automatically overwriting the oldest when the memory is full. Of course, you can manually clear all readings from memory.
You can set up sound notifications for low battery and fever or mute the sound completely. The silent mode makes it one of the best thermometers for home use for infants or small children. Remove the need to wake up a sick child to take its temperature in the middle of the night by using this device, or even use it regularly so they don't have to sit still for five minutes.
Two AAA batteries (included) power this thermometer and are stored in an easy-to-open spring-loaded "magazine."
Although you can switch it ON/OFF, the Mueller thermometer has an additional automatic shut-off after 30 seconds of idle time.
Braun No-Touch + Forehead Thermometer
Pros
Two ways of taking temperature
Fast readings
Silent mode
Braun has patented a technology that catches two times as much body heat as other thermometers in the store, resulting in readings in under two seconds.
This thermometer enables two ways of temperature taking. The first method is contactless, by placing a thermometer up to two inches from the forehead.
A positioning system that casts a beam of light onto the forehead helps you aim for the ideal position to get an accurate reading. For example, if you're holding this Braun no-touch thermometer too far from the target area, a message will pop up on the screen (Fwd), indicating that you should bring it closer.
The touch mode is another way of taking temperatures. You'll just place it on your forehead, and voila! We recommend this method if you're taking your own temperature, as it's much easier than looking in the mirror to see where the light hits and if the distance is correct.
Important Features
Like other models, this one also features a silent mode. This feature possibly makes it the best forehead thermometer for your baby, and the fact that pediatricians love this thermometer only lends to its credibility.
Another thing the Braun thermometer shares with the previous model is a color-coded backlight (green, yellow, red), depending on the temperature reading. It can read temperatures as low as 93.9°F or 34.4°C, or as high as 108°F or 42.2°C. If the temperature is higher or lower, you'll get an Error message on your thermometer's display.
An error message can pop up if it's too hot or too cold in the room, too. To avoid this, you should have your Braun best forehead thermometer sit for half an hour in a room where the temperature ranges 59–104°F or 15–40°C.
iHealth Non-Contact Infrared Thermometer
Pros
Accurate tri-point sensors
Quick readings
Quiet
One-year warranty
Cons
Single-button control may be confusing
As well as offering quick, one-second readings, this infrared thermometer takes accuracy a step further by integrating the distance sensor and environmental sensor (in addition to the infrared sensor) that include different variables when the temperature is being taken.
When taking the tri-point sensor into account, it's possibly the best infrared thermometer on our list. Even if it reads the temperature from up to 1.18 inches from the forehead center, which is the closest measuring distance of the models we reviewed, it still outperforms most of the models that we covered.
Celsius or Fahrenheit readings are displayed on a large backlit LED screen, and you'll be able to read them even in dark settings. You'll love the way this thermometer makes only a quiet vibration, with no buzzing or piercing sounds.
Important Features
The iHealth best forehead thermometer only has one single button that takes care of everything. This is a good approach for some people, while some may find it slightly confusing until they know how everything works. Don't worry, the instructions and user guide are included in the packaging, along with two AAA batteries.
For any additional questions, feel free to contact their California-based customer service, they'll be glad to help. As one of the best forehead thermometers out there, we doubt you'll have to give them a call, especially with their one-year warranty.
Thermobio FDoc V-22 Infrared Thermometer
Pros
Very accurate
Celsius or Fahrenheit
32 memory spaces
Body and object temperature
Two-year warranty
30-day refund
Cons
It's pretty expensive
A bit bulkier than other options
Thermobio's infrared thermometer is shaped like a gun, a bit differently than the previous thermometers we reviewed. It's FDA-approved as a Class 2 medical device, its quality is top-notch, and its accuracy is one of the greatest on the market. Performance testing proved that the Thermobio's best no contact forehead thermometer has an accuracy of +/- 0.5°F or +/- 0.3°C.
Two modes enable you to measure body and object temperature. The object mode reads the temperature of food, liquids, bottles, and different objects.
When measuring body temperature, the range is 89.6–109.2°F or 32–42.9°C, while the range for object temperature is 32–212°F or 0–100°C.
Just turn the thermometer on, press the button to select the mode, and aim at the forehead (or object) from a distance of 0.4–2.5 inches. No calibration is needed.
Important Features
Thermobio's best no-touch thermometer displays accurate Celsius or Fahrenheit readouts on the LCD screen in just one second. Press the convenient C/F button to set your preferred scale.
If the temperature is higher than average (above 99.7°F or 37.6°C), the thermometer will sound the fever alarm, and the LCD screen will light up red.
This thermometer is powered by two AAA batteries, which are included along with the user guide. It has an auto power-off feature that automatically shuts the device off after 15 seconds of idle time.
The memory stores 32 results. It can be your best thermometer for COVID because it allows you to monitor your family, coworkers, and yourself.
Even though the price of this thermometer is quite high, its features and accuracy make up for it. It's also backed by a two-year repair and replacement warranty, as well as a 30-day refund guarantee, so you can even test it out to see if it suits your needs.
Bionso Infrared Thermometer
Pros
Fast and accurate
C/F
Body, object, room, food, liquid temperature
Auto shut-off
The best digital thermometer from Bionso is another gun-type forehead thermometer that is perfect for home or work.
This thermometer is high-quality and accurate up to +/-0.4°F or 0.2°C for taking the temperature of bodies, objects, liquids, food, and rooms thanks to its patented probe head technology and precise German infrared sensors.
It provides readouts in Celsius or Fahrenheit, with a simple, single-button switch between the two. Bring the device 2–3 inches from the forehead or object, and the results appear on the LED screen in just one second.
Important Features
The color of Bionso's best touchless thermometer screen matches the temperature, lighting up green when the temperature is average, orange if it's slightly high, and red if there's a high fever. In addition to the red screen, the high fever will prompt an optional fever-alerting beeping sound from the device.
The ten latest readings are stored in the memory, so it's easy to track temperature changes.
It's made for users of all ages to be the best forehead thermometer for adults, kids, infants, and the elderly. We love it for people with bad eyesight, too!
This device is powered by two AAA batteries (not included). If you forget to shut it off, an auto shut-off feature will shut it down after 30 seconds of idle time, saving energy.
The device comes with a bag, registration card, a quality inspection certificate, and an instruction manual. The manual wasn't very well-written, though.
Beurer Bluetooth Infrared Thermometer
Pros
Body, room, object temperature
Accurate
60 memory spaces
Five-year warranty
Compatible with apps
Another best no-touch forehead thermometer option to choose is this Beurer FT95 infrared model that measures body temperature from a distance of 0.4–0.8 inches and can also measure room or object temperature in just seconds.
The results are displayed on a large backlit LED screen in Celsius or Fahrenheit. The LED fever alarm around the big button lights up green, yellow, or red, depending on the temperature, and a smiley or sad face emoji also pops up on the screen.
With the accuracy of +/-0.4°F or +/-0.2°C for forehead and +/-4% (+-/4°F or +/-2°C) for object temperature, it's one of the most accurate forehead thermometer candidates on the market today. It can show the temperature range of 93.2–108°F or 34–42.2°C for body temperature, and 32–176°F or 0–80°C for object temperature.
The fever alarm rings if body temperature is equal to or higher than 100.4°F. Display illumination, as well as sound control, can be turned off. The display also shows the date and time, which is super helpful in tracking temperature by date in this memory storage.
Important Features
Beurer's best non-contact forehead thermometer stores 60 data entries, enabling you to track temperature changes easily. It includes a Bluetooth feature and compatibility with free Beurer HealthManager and Beurer BabyCare apps (Android and iOS). Application compatibility shines here, as you can import your data and have it all in one place.
The ample memory storage is fantastic when you're monitoring your family's temperature changes, but this can also make it the best thermometer for nurses who need to monitor temperature changes in a large number of patients.
The website lists all smartphones that the FT95 thermometer is compatible with, so ensuring your phone is compatible is a recommended prerequisite to purchasing.
The datasheet and instructions in various languages are also available to download from the website. The instructions explain everything from turning the device on to connecting it to your phone via Bluetooth. We rated this the best infrared forehead thermometer for easy data collection and transfer.
Two AAA batteries are included, and the battery charge indicator shows how much juice the battery has left, so you're never surprised when it runs out. If the thermometer isn't used for 60 seconds, it will automatically turn off.
This German-quality product comes with a five-year worldwide guarantee, so it's worth the extra price.
How to Clean Your Contactless Thermometer?
Most manufacturers will recommend cleaning the device after each use. The instructions will often explain how, but in case you've lost the manual or didn't get it, here's a walk-through of the cleaning process.
Because the measuring probe is the crucial and the most sensitive part, it can't be cleaned with regular cleaning products nor with a rough cloth or paper towels. Instead, you should use a soft cloth, an alcohol swab, a cotton swab with 70% Isopropyl alcohol, or another disinfectant.
You can get away with disinfecting the casing of your best forehead thermometer with a cloth very slightly moistened with alcohol, disinfectant, or even with a mild soapy solution, but be careful that no liquid gets into the device.
Making sure the device is completely dry before using it is important to receiving accurate readings.
Additional Tips
Here are some tips that can solve malfunctioning problems or help you avoid unnecessary damage to the best forehead thermometer of your choice.
Check that the batteries are inserted correctly. The number one reason for the device not turning on is incorrect battery placement. Follow the + and – polarity signs that indicate how the batteries should be placed.
Don't expose the device to extreme temperatures (high or low) or direct sunlight.
Always change both batteries at the same time.
If there's a leakage from the batteries, you should put protective gloves on and thoroughly clean the device with a dry cloth.
People Also Ask
What is the best brand for forehead thermometers?
Braun has been a trusted brand for forehead thermometers for years and is a choice for many pediatricians, thanks to their silent mode and fast readouts. Their thermometers are among the most accurate ones on the market, and some of them can even double as "touch" thermometers that can be placed directly on your forehead.
Another fantastic brand is Beurer. This German-quality brand makes excellent thermometers with multiple features and ample memory space. They're compatible with free Beurer apps that you can get in the GooglePlay or iOS store in order to monitor temperature changes.
Is a forehead thermometer accurate?
Forehead thermometers are very accurate, although readings may vary depending on the placement. By carefully following the directions for a particular thermometer, as not all of them take the temperature from the same distance, you can ensure an accurate reading.
Most forehead thermometers on the market are accurate up to +/-0.4–0-5°F or +/-0.2–0.3°C. You can always take temperatures a couple of times to make sure, it will still take you less time than using a regular thermometer.
Which type of thermometer is the most accurate?
Digital thermometers are the most accurate. Among these, rectal thermometers have the best accuracy, especially for infants and kids up to four years of age, and can be inconvenient and uncomfortable to use.
Forehead thermometers are the next best thing. They're suitable for any age, but you must follow the instructions closely as the manufacturer states. Accurate readings largely depend on the correct placement.
The least accurate thermometers are mercury (or some other substance) armpit thermometers.
What is the best infrared forehead thermometer?
Our choice is the Beurer FT95 infrared thermometer. It can take body temperature, as well as room or object temperature. The accuracy is excellent, the design is well thought through, and the features are user-friendly.
Beurer makes it possible to connect this thermometer to their free apps to better track temperature changes by date and time. You can import the readings from the 60-entry memory via Bluetooth.
An LED color-coded screen will light up according to the temperature readout (green, yellow, red). If the fever is high, the fever alarm will also ring.
FT95, the best forehead thermometer from Beurer, is perfect for taking the temperature of a sleeping child in the dark. The display illumination can be turned on, while the sounds can be turned off.
As a cherry on the top, this device is backed by a five-year worldwide warranty giving you confidence in this German-quality infrared thermometer.